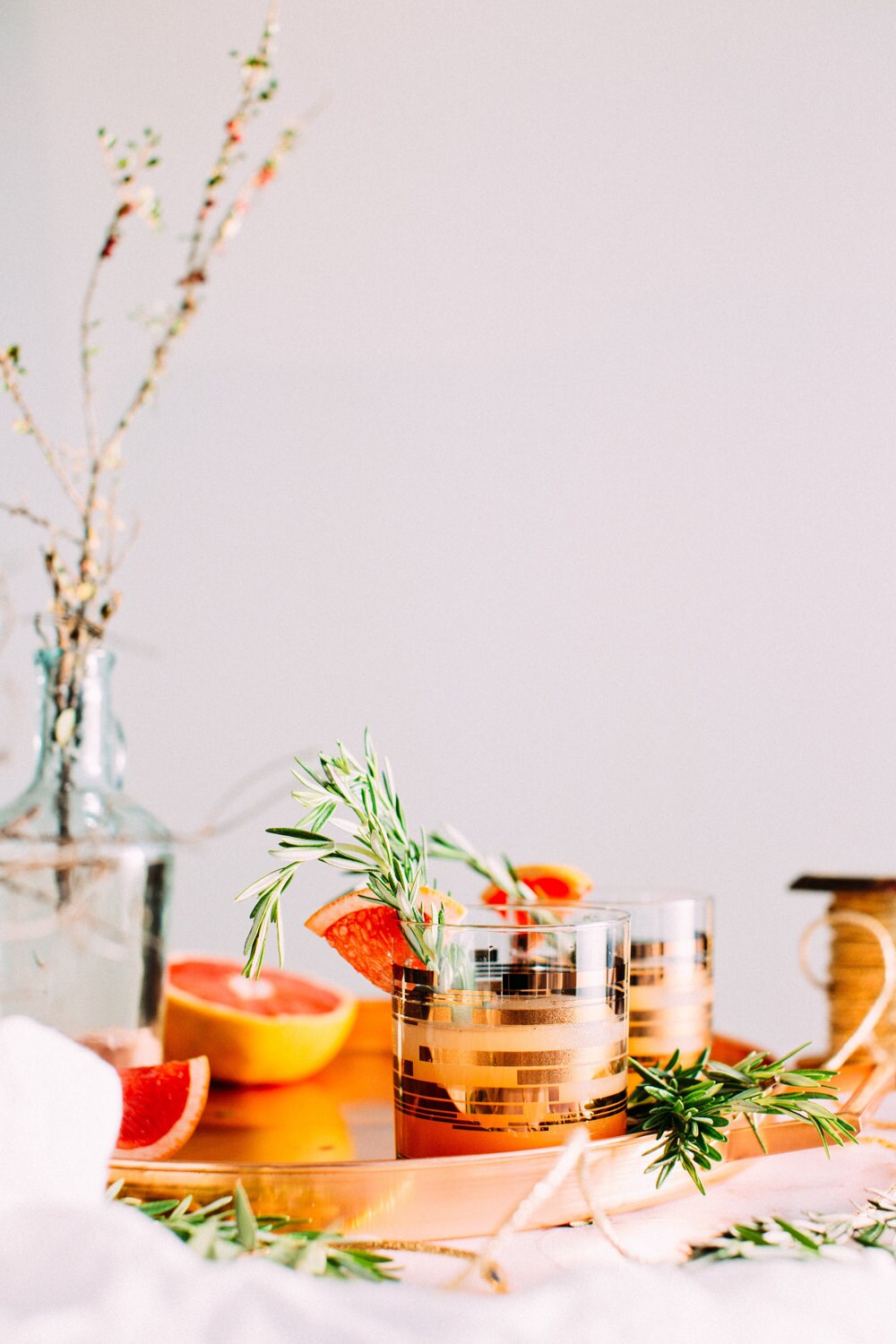 Spruce up a classic cocktail for the holidays.
Grapefruit + Rosemary Sparkler:
1 cup of water
1 cup of sugar
3-4 Rosemary sprigs
 Cocktail Recipe:
1 1/4 oz Tito's Handmade Vodka or Hendricks Gin
1 1/4 oz grapefruit juice
1/2 tsp Rosemary Simple Syrup
 Club Soda
Bar Tools:
Shaker
Jigger
Dazzle your guests with this yummy cocktail at your Christmas party. To make the simple syrup, put all the ingredients in a small pot. Once the ingredients start to boil, reduce the temperature to low boil. But keep the pot simmering. I like to stir every few minutes. Sugar burns easily. You'll notice the consistencg will change from loose and watery, to thick...like syrup. Do this for 40 minutes. The syrup will be sweet but inherit herbaceous notes. Let it cool. Store in a glass container. The syrup will keep for 3 weeks.
The fun part. Fill your shaker tin with ice. Add all the ingredients except the club soda. If your shaker doesn't have a top, use a pint glass to cover. Give the shaker a good shake, then pour everything into a large rocks glass, ice and all. Fill with club soda (the sparkle). Garnish with a rosemary sprig. Cheers. 
To make a pitcher. Fill the rocks glass with vodka or gin. Add equal parts Grapefruit juice. Add 1/4 cup of simple syrup. Stir it with a large spoon. Top it off with club soda. Put a few sprigs if Rosemary in the pitcher. You can add slices of fresh grapefruit if you're feeling extra fancy.