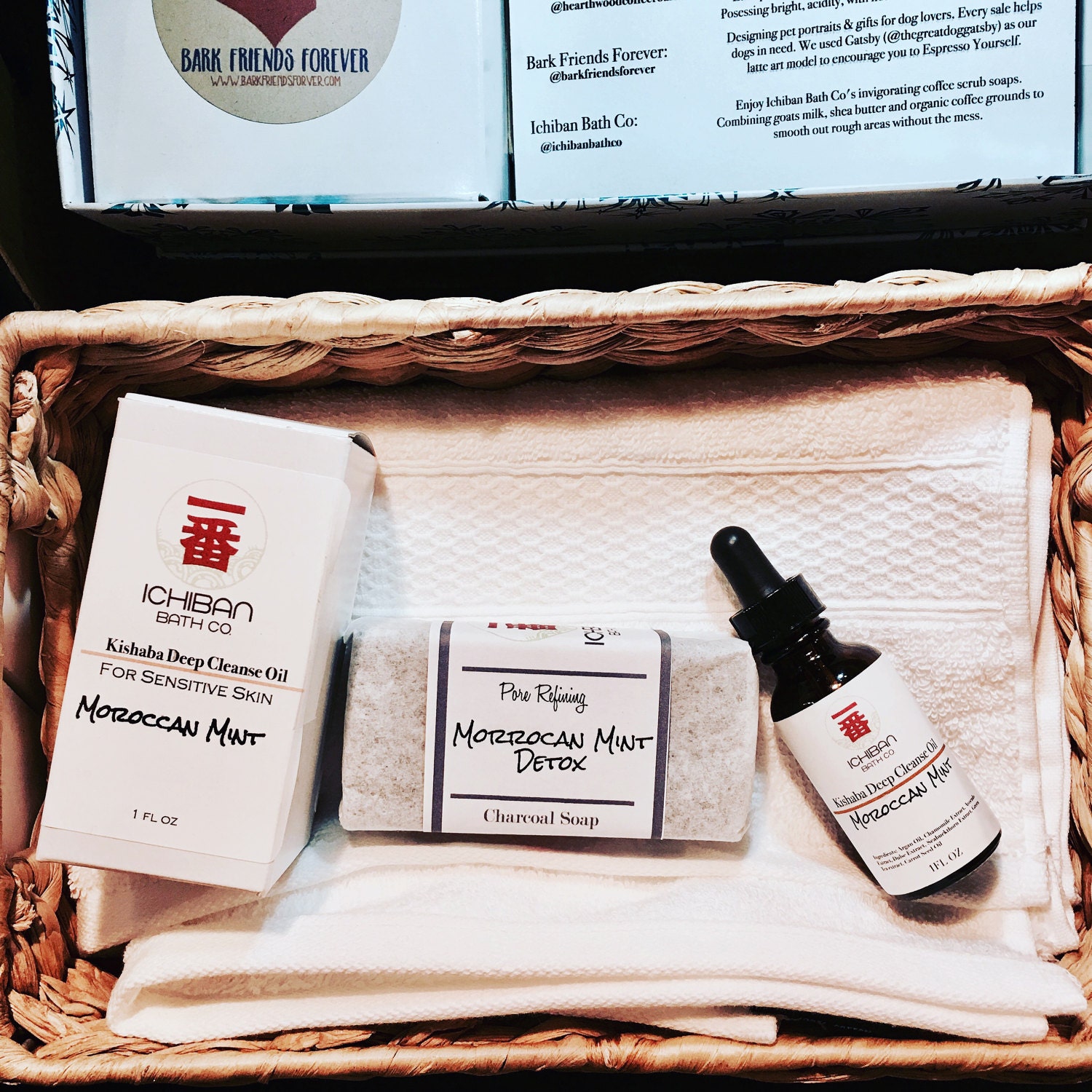 I'm constantly asking myself "Where does time go?" I feel like once I hit my 30s time just accelerated. Or maybe I'm just busy? Let's see....I work full time, am a mother of 2, but only 1 husband. And I'm an entrepreneur/ artisan. So yeah, I'm busy. And I don't have time to follow those Instagram/Pinterest 10 step beauty regiments. So I scaled mine down to 2. Yes...2.
It's called the Double Cleansing Method. It's an old Japanese practice dating back to 300 years when Geishas were known to be the most beautiful women in the world. They were the symbols of 'couture'. It's still a method used today.
The Kishaba Cleansing Kit comes with 2 products: Kishaba Deep Cleansing Oil, and the Moroccan Mint Detox soap. The Moroccan Mint soap has always been my best seller. But I wanted to offer something that would boost the results. 
The Kishaba Deep Cleansing Oil is made with 100% pure Moroccan Argan oil and botanical extracts that soothes inflammation. And corrects the skin tone and surface. The Moroccan Mint Soap, made with Activated Charcoal gently removes impurities and excess oil without stripping the skin of its natural oils.
How to use:
1. Apply 3-4 drops of oil, rub it onto your face in a circular motion. For best results do it for 2 minutes.
2. Don't skip the eye area. The mint is dilluted, so go ahead and get that waterproof make up off.
3. Use a steamed wash cloth to wipe away everything. 
4. Wash your face with soap. Then rinse.
Immediately you will see your pores look smaller. Your skin looks brighter, radiant. Your skin feels soft and refreshed. 
Suitable for both acne prone skin, and maturing skin. The ingredients not only soothe sensitive skin but is rich with antioxidants and essential fatty acids that slows down signs of aging.
Retails for $40. I only have 3 left in stock.